About the Law Office of David S. Bouschor, II, P.C.
Serving Denton & the Surrounding Areas since 2000
Established in 2000, the Law Office of David S. Bouschor, II, P.C. has made a name for itself as a firm that can handle cases other firms simply cannot. We think outside the box and creatively apply a variety of resources to each case, enabling us to handle everything from extremely complex, high-stakes divorces and will contests to simple premarital agreements. We understand that family law matters have an enormous impact on our clients' lives, and we strive to help our clients navigate the process with the guidance and support they need.



About the Law Office of David S. Bouschor, II, P.C.
Our Approach to Handling Your Case
Our firm delivers individualized attention to each client and every case. We understand that your situation is unique and that circumstances will affect each client differently. Our Denton family law attorneys and legal staff work tirelessly to provide clients with the tools and systems they need to make educated and informed decisions about the future.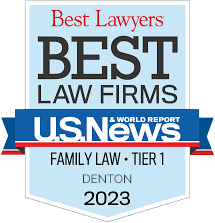 We take a three-step approach to each case:
Step one: Listen to our clients.
Step two: Educate our clients about their case.
Step three: Create legal strategies and clarify options to accomplish our clients' goals.
We believe that providing our clients with as much information as possible and maintaining open communication throughout the case greatly improves the outcome. Although we cannot guarantee a particular result, we can help our clients understand the information relevant to their cases, such as the laws pertaining to proceedings and the strategies that can be used on their behalf. Our goal is to work closely with clients so that they can make the best decisions for their individual cases and their own future.
Learn more about our approach today. Contact us at (940) 202-8323 to speak with our Denton family lawyers.
MEET OUR TEAM OF DEDICATED aTTORNEYS
gUIDING YOU THROUGH THE LEGAL COMPLEXTIES OF fAMILY lAW
David S. Bouschor, II is Board Certified In Family Law

Best Law Firms - Family Law Tier 1 - Awarded by US News & World Report 2018-2023

Highest level of Professional Excellence 2022 - Awarded by Martindale-Hubbell

Best Probate Lawyers in Denton 2023 - Awarded by Expertise

Best Divorce Attorneys in Denton 2023 - Awarded by Expertise

Best Divorce Attorneys in Denton 2021 - Awarded by Expertise
OUR CLIENTS TRUST US
FORMER CLIENTS SHARE WHAT IT MEANS TO WORK WITH OUR TEAM
I definitely recommend this team of professionals

"I'm eternally grateful to the Law Office of David S Bouschor. Everyone on staff is professional, caring & courteous. I'm blown away at how well they handled my divorce during this unprecedented pandemic (considering how quickly everything was/is changing). Their office manager (Melissa) was wonderful whenever my fears got the best of me. I could always count on her responding quickly to any and all questions/ concerns I ever had. I definitely recommend this team of professionals to anyone in need of legal expertise."

No bumps in the road, smooth and efficient.

"The probate process was totally complete in 4 months, over holiday season and during COVID no less."

Made it as smooth as possible for me.

"I used them for my divorce and they did a great job. Made it as smooth as possible for me and gave me the guidance needed to make the right decisions."

Great Family Law Attorney

"David Bouschor has provided superior guidance during a very stressful time. He explained my options and guided me down the proper path for my situation/circumstances."

Her attention to detail and listening skills are by far the best.

"Her attention to detail and listening skills are by far the best."
David Bouschor is Board Certified in Family Law by the Texas Board of Legal Specialization

Big Firm Quality, Paired With the Small Firm Attention

Serving Spanish Speaking Clients | Abogados Que Hablan Español

Nearly 60 Years of Collective Family Law Experience
HELPING FAMILIES MOVE FORWARD
CALL

940-202-8323

OR FILL OUT THE FORM BELOW TO SPEAK WITH AN ATTORNEY