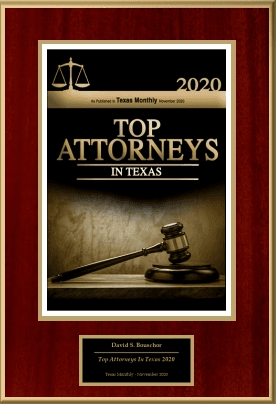 Attorney David S. Bouschor II was recently honored with the distinction of being named a "Top Attorney in Texas" during 2020 by both Texas Monthly and Martindale-Hubbell.
This distinction was conferred after Mr. Bouschor's peers rated him for his commitment to professional excellence and supporting his clients. He also retains a Martindale-Hubbell AV Preeminent® rating for 2021, further cementing his peers' confidence in his experience and skill as legal counsel to his clients.
Mr. Bouschor is a Board-Certified family law attorney and founded his practice, the Law Office of David S. Bouschor, II, P.C. in 2000. In more than 20 years of service to his clients, Mr. Bouschor has helped many achieve favorable results and resolutions to issues involving family law, divorce, probate, and guardianship, among other important matters.
For more information about Mr. Bouschor's recent awards and honors, or what the Law Office of David S. Bouschor, II, P.C. can do for you, please connect with us online.